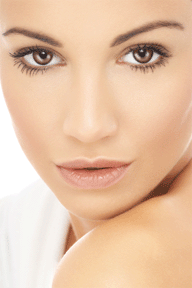 In recent years, Laboratoires Filorga invented Cosmesothérapie, born from the encounter between the world of cosmetics and  aesthetic medicine. This new term is used to describe the efficiency of mesotherapy combined with the precision of the cosmetics but in a non-invasive way.
Each Cosmesothérapie treatment is stamped with Filorga's medical expertise, materialized in an exclusive core formula: NCTF®, a high molecular weight hyaluronic acid that hydrates and regenerates tissues, and a poly-revitalizing complex of active ingredients:
12 vitamins stimulate the vital functions of cells
23 amino acids stimulate the construction of elastin & collagen
6 coenzymes catalyse the bio-chemical reactions of tissues
5 nucleic bases activate cell communication
6 minerals overcome skin deficiencies
1 anti-oxidant capture free radicals
The NCTF® Chronospheres®: Identical to the formula injected in anti-aging mesotherapy, NCTF, genuine "red thread" of the line, is incorporated in each treatment, within the Chronospheres. These multi-layered microscopic spheres transport the ingredients to the centre of the skin and liberate them progressively. Originating from a discovery patented by the CNRS
[French National Centre for Scientific Research], these spheres have been developed exclusively for Filorga. By breaking down progressively, Chronospheres gradually diffuse into the tissues for a precise and long lasting anti-aging efficiency, just like mesotherapy. This is how they work:
Sleep and peel
THIS CELLULAR RENEWAL "BOOSTING" CREAM SOFTENS THE SKIN AND FIGHTS PREMATURE AGING
To the NCTF® and Hyaluronic acid cocktail are added 6 varieties of hydroxyacids (AHA and BHA) of different molecular sizes that guarantee progressive and controlled exfoliations. Liposome encapsulated Azelaic Acid and Pyruvic acid provide a hydrating and antioxidant triple action. Two matrikin peptides combined with brown algae and alpha arbutin provide a protective, lightening and efficient anti-aging action. The skin is intensely smoothed and brighten. It regains beauty and glow, and also complexion irregularities are reduced.
Meso C
THIS TREATMENT PROVIDES A BRIGHTENING AND REJUVENATING EFFECT. STRONG, IMMEDIATE AND LONG LASTING HYDRATION
The strong 8 % pure Vitamin C powder dose is kept in an air tight and light resistant packaging that preserves its properties until opened to use. This ultra powerful anti-oxidant form of Vitamin C reinforces collagen production, stimulates the tissues and provides brightness to the skin. It is associated to a trio of ultra-hydrating polysaccharides and NCTF® Chronospheres®, providing a reinforced "meso" action. Signs of tiredness are erased, the complexion is naturally enhanced, brighter and the skin looks rejuvenated.
Remember that all Filorga's products contain Chronospheres with controlled time-release delivery of hyaluronic acid with high molecular weight, and also NCTF, a unique poly-revitalizing complex of 55 ingredients used in aesthetic mesotherapy (medical treatment consisting of micro-intradermal injections of revitalizing substances). In other words, it is mesotherapy but without needles! Now at CosMed, we are offering these exclusive innovative and non-invasive treatments, providing the best and most modern dermatological care for your skin. Interested in Cosmesothérapie? Ask our skin care specialist if these products are appropriate for your skin.
***************************
Not sure which facial rejuvenation procedure is right for you?
Start with a complementary Digital Complexion Analysis for the face with the Visia system. CosMed's Digital Complexion Analysis is performed by a board certified dermatologist (not a technician!) who can give you a better understanding of the state of your skin, as well as a private consultation on how you can improve it.
***************************
Got a Dermatology Question? Ask an Expert!
Dr. Alberto de la Fuente García, M.D. is a Dermatologist experienced in both clinical and cosmetic Dermatology. Contact Dr. de la Fuente or visit https://www.cosmedclinic.com to learn more about the best procedures to improve your skin.