It's unfair. It's illegal. But the fact is, your looks can play a critical factor in your ability to get hired or get promoted– especially in today's job market where the competition is tougher than ever.
Whether you are looking for a raise, promotion or a new job, employers are looking for motivated leaders and staff with energy, confidence and drive. And physically, these important traits can translate into the person who looks younger, healthier and fitter.
According to a recent American Society of Plastic Surgeons (ASPS) survey, 1 out of 10 working-age women are considering cosmetic surgery because they consider it a factor in helping them reach their career goals. 3.5 million (3% of those surveyed) admitted to already having cosmetic surgery specifically  for this reason. Finally, 80% of the group surveyed (approximately 92 million working women) agreed that having cosmetic surgery would increase their overall confidence, and thereby help them gain new clients or the job they want.
But cosmetic surgery in the workplace is not just for women. More and more men are choosing plastic surgery procedures to look and feel better and to have a healthier and younger look. Increasing self-esteem and aiding greatly in their careers to climb the ladder in today's competitive business world. In business today, men wear their resumes on their faces. It is not enough to be qualified for a job you have to look qualified too.
Stubborn areas that are more resistant to improvement by diet and exercise are the main reasons men are enjoying the benefits of plastic surgery.
Men are often more pleased with subtle changes giving them a more balanced rejuvenated face and a trimmer and younger more refined image, enhancing them with a more chiseled and angular masculine overall appearance.
Some top cosmetic procedures for working men and women include: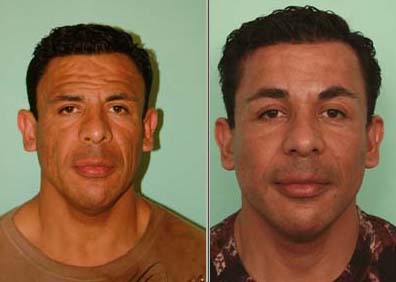 Brow Lift (Forehead)
A brow lift helps to remove the tired angry look and restore a youthful, refreshed look that your face once had. Medical doctors use a technique that can improve the horizontal lines and furrows in your forehead. By removing these forehead muscles, a brow lift can raise the eyebrows and remove frown lines. CosMed's medical doctors use a conventional surgical method that hides the incision behind the hairline, resulting in smoother forehead skin and a refreshed more youthful appearance.
Eyelids (Blepharoplasty)
Eyelid surgery is one of the most common procedures that is performed to instantly restore your face's youthful appearance. By removing fat, excess skin and muscle from the eyelid area, blepharoplasty can correct dropping upper eyelids and puffy bags below the eyes. You'll look refreshed, energized, and may even experience better vision after your eyelid surgery. Receive this procedure alone or in conjunction with other facial enhancements to complete your new look.
Chin Augmentation (Mentoplasty)
Chin augmentation strengthens the appearance of a receding chin by increasing its projection and contour. Patients who wish to receive surgery of the chin either desire an enhancement (implant) or reduction (bone surgery). The goal of this surgery is to improve your profile by creating a balance between your chin and other facial features, increasing your self-esteem.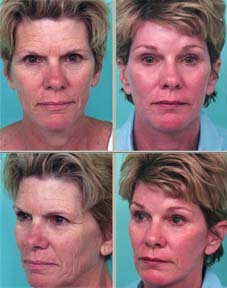 Face Lift and Neck Lift
A facelift (rhytidectomy) can turn back time and improve/reduce the effects of aging. By tightening underlying facial muscles and removing areas of excess fat, medical doctors can help you achieve a more youthful and naturally refreshed look. A facelift will smooth and lift. CosMed Clinic's medical team can perform your facelift alone or in conjunction with other procedures like a forehead lift, eyelid surgery, or nose reshaping.
Not quite ready for cosmetic surgery? Today, there are plenty of non surgical facial rejuvenation treatments. One of the most popular is called the Soft Lift.
Soft Lift

The Soft Lift is a non-surgical face lift procedure that combines BOTOX and Juvederm to dramatically freshen your look and erase the signs of aging by reducing lines in the face while enhancing lips, cheeks and contouring the jawline. The combination of BOTOX and Juvederm helps not only relax and smooth crow's feet, forehead and frown lines, but fills out the volume in your face giving you a younger, natural look.
For more cosmetic surgery information, including details on body lifts, liposuction and other procedures designed to tighten and tone your body, visit CosMedClinic.com.  On the site, you can share your goals privately with our surgeons and get feedback on what procedures are recommended for you by filling out our free, online virtual consultation form.
Do you have a story you'd like to share about how your appearance has affected your career? We'd like to hear about it. Please share it here, on our blog.