by CosMed Clinic Guest Blogger, Michelle Pearl
I've written in the past about how Doctor Quiroz, a thigh lift and body contour specialist surgeon, who meticulously "picked up the slack" for me after I managed to lose almost 150 pounds for the final time. Thanks to Dr. Quiroz I have happily faced the last many years with a flat stomach, perky breasts and underarms that no longer seemed to  have a mind of their own.
I lost the weight and maintain my weight loss through fitness and reformed eating habits and in a perfect world, that would be the quintessential fairy tale ending.  However, there is a bit of a dark postscript to my story.  Despite the incredible improvements that Dr. Quiroz made to my body, I managed to retain an area which remained stubbornly immune to my countless hours of cardiovascular exercise, innumerable strength training forays and fervent praying; the crinkly folds of sagging skin dangling from my inner thighs.
After many of decades of subjecting my thighs to a constant "stretch and deflate" cycle, clearly, my thighs had had enough. Once I got rid of the bulk of the fat underneath them, the weary skin covering them gave up the ghost. I can't tell you the exact day that the epidermis between my legs stopped springing back to a taut position, I can only confirm with undeniable certainty that one day it did finally happen.
As a fitness professional, I live in exercise clothing. And as a former obese person who now sported  yards of saggy thigh skin, I invested heavily in the body binding shapewear of Spanx.
I believe that life is too short to live with things that make you unhappy; whether that be a lousy boss, an abominable significant other or a body part that makes you cringe. I decided that it was the right time for a tight lift. So a few months back, I went back down to CosMed to my favorite fix-it man, Dr. Quiroz.
My inner thighs had finally met their match.
While I was there,  we decided to thin out my waistline a bit as, well. My tummy was flat, but  if you looked at my figure from a straight-on angle I was shaped like a board. Picture someone with an hourglass figure. Now picture the polar opposite; that is what my waist looked like before Dr. Q. gave it a little encouragement.
The  incisions left after my thighs were repaired  are all but invisible, placed directly in the crease between my groin and legs. And there were no stiches to be removed from my vertical abdominoplasty; just a fine line which will one day fade into a faint memory of a scar.
The other day in my dance fitness class, after a particularly modern hip-hop inspired step, I commented aloud how my five adult children would probably die if they could see their old mom busting such a youthful move.
A woman in the class stopped dead  in her tracks, open her eyes wide and asked in an astonished voice, "That body gave birth to FIVE KIDS?"
I was too flattered by her comment to let her know that two of those children were stepchildren and that I'd had a little help perfecting my shape by a man who was a genius with a scalpel.
I just smiled and went back to letting my Spanxless body happily dance the hour away.
***********
About the Author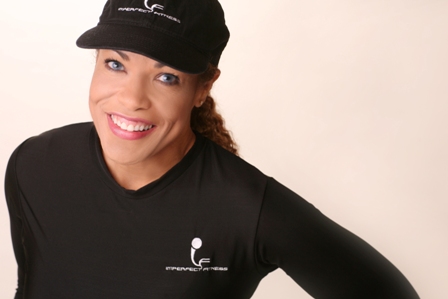 Michelle Pearl, is an actual patient of CosMed Clinic who had a thigh lift and reconstructive surgery with Dr. Quiroz  after her weight loss. She is also a CPT, GFI, LWMC  fitness expert, entrepreneur, former award-winning newspaper columnist and the author of Wake Up, You Are Probably Never Going to Look Like That; How to be Happier, Healthier and Imperfectly Fit. For more information visit: www.ImperfectFitness.com or visit her blog at www.FedUpFemale.com